Learn to Use the Telescope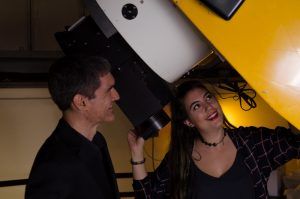 The Maryland Space Grant Observatory is available for individual use by trained members of affiliated institutions. We schedule one training session per month to get acquainted with the telescope and its operation. No prior experience is required.
The training sessions cover:
Observatory Access
Operating the 20-inch Morris W. Offit Telescope
Safety and Roof Rules
Training sessions last approximately 1-2 hours. To request a training session slot, please complete this registration form. For more information about training, contact us.
For the observatory procedures (PDF), click here. To view the observatory's availability for reservation by trained users, see the calendar in the Upcoming Events section.