The Morris W. Offit Telescope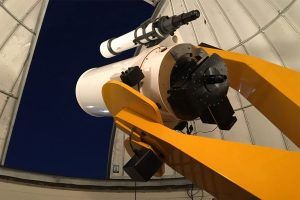 The Morris W. Offit Telescope is the major observing instrument in the Maryland Space Grant Observatory. Provided by an anonymous donor in honor of Morris W. Offit, past Chairman of the Board of Trustees of the Johns Hopkins University, the telescope has, as its major optical element, a 20″-diameter (half-meter) mirror. This f/8 Ritchey-Chrétien telescope was built by DFM Engineering of Longmont, Colorado.
The telescope is located under the Stanley D. and Joan F. Greenblatt Dome, on the roof of the Bloomberg Center for Physics and Astronomy, on the Homewood Campus of The Johns Hopkins University in Baltimore,  Maryland.
The original Morris W. Offit Telescope was relocated to Apache Point Observatory in New Mexico in 1998 to serve as the Sloan Digital Sky Survey's Photometric Telescope, and is now known as ARCSAT; the current one was installed in September 1999.