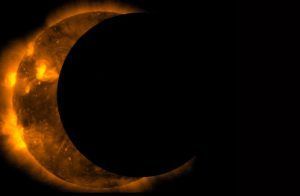 On August 21st, 2017, the Moon passed in front of the Sun as seen from much of North America, in an event that was hailed as a Great American Eclipse. (Another contender for that title will occur on April 8, 2024, in case you missed this one!) While a total eclipse was visible from within a narrow band stretching from Oregon to South Carolina, Maryland experienced a partial solar eclipse. In Maryland, approximately 80% of the solar surface was obstructed at the maximum, which occurred at approximately 2:43 pm local time. For any partial solar eclipse, please note: It is not safe to observe a partial solar eclipse without special equipment and/or eye protection — regular sunglasses are not okay!
For information about viewing a solar eclipse safely, please visit NASA's Eclipse 101 Safety. Key takeaway: if you are trying to observe a partial eclipse, you need special eclipse glasses from a reputable manufacturer. Here is a rundown of information from the American Astronomical Society on solar filters and viewers and how to make sure you get something that is safe to use.

Baltimore residents had a chance to view the eclipse on "The Beach" at JHU's Homewood Campus. Here is a news item about that event:
https://hub.jhu.edu/2017/08/22/solar-eclipse-party-johns-hopkins/
For more information about the August 21, 2017 solar eclipse, visit NASA's Eclipse2017.
To all eclipse watchers, we wish you clear skies!