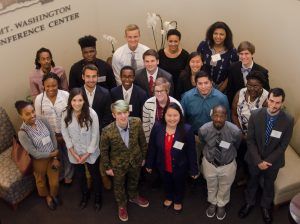 Some of Maryland's bright rising stars in space science and engineering showcased their work at the Student Research Symposium on July 24, 2017. Held on the leafy grounds of the Johns Hopkins Mt. Washington Conference Center, the symposium was a partnership between Maryland Space Grant Consortium and Morgan State University's School of Engineering. The day was filled with talks from students participating in MDSGC internships across the state and posters presented by undergraduate and graduate research students at Morgan State.
The interns told stories of their challenges and successes in their projects that took place at institutions including University of Maryland Baltimore County, Capitol Technology University, and the US Naval Academy, as well as Morgan State, Johns Hopkins, University of Maryland College Park, and the University of Maryland Eastern Shore. Their internships covered a wide variety of STEM focuses, ranging from astrophysics to computer science to chemical engineering.
The symposium was capped with a luncheon where prizes were awarded for the best oral and poster presentation. Chukwuma Odigwe was awarded the best oral presentation for his talk "CACTUS-1 CubeSat", while Andre Nottingham II took home the prize for the best poster for his presentation on the Cosmology Large Angular Scale Surveyor. MDSGC congratulates all participants on a successful summer and looks forward to more of their successes in the future!