Crawl, Walk, Run: Balloons, Rockets, and Satellites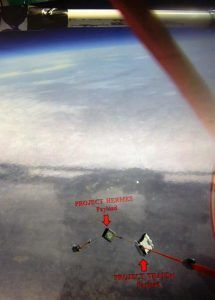 Several years ago, a team from MDSGC's newest member, Capitol Technology University (CTU), began working on an experiment to collect and study debris in low-earth orbit. This project was motivated by the hazard posed by small, non-trackable space debris to satellites and crewed spaceflight. The essential idea of the "TRAPSat" payload is to capture debris in aerogel and photograph the resulting tracks during flight. TRAPSat's test flights were executed through the MDSGC Balloon Payload Program.
The CTU team also had a communications payload "HERMES" in development — utilizing the Iridium satellite constellation to downlink flight data in nearly real time — also flown and tested using MDSGC balloons.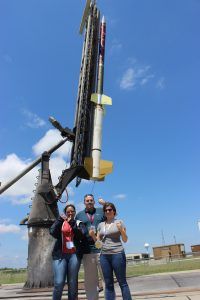 High-altitude balloon (HAB) flights provide a low cost route to near-space conditions, and an excellent learning experience, as payloads are usually recovered and can be flown multiple times. For the CTU team, balloons provided the first steps toward a more ambitious goal. Taking advantage of the RockOn workshops organized by the CO and VA Space Grant consortia in partnership with Wallops Flight Facility, CTU students were also gaining experience and building enthusiasm for sounding rocket experiments. CTU graduate student Ryan Schrenk described the incremental approach:
"We continued HAB flights with the help of UMD and the MDSGC, maturing our payload one iteration at a time.  We flew multiple missions improving the capabilities or performance of the satellite on each flight. After numerous successful HAB flights we were able to achieve the desired Technology Readiness Level (TRL) as well as the knowledge needed to take our payload to the next phase, sub orbital flights."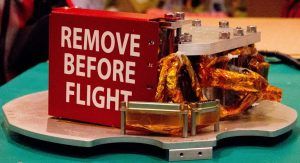 RockSat-X, the high-intensity sounding rocket payload launch opportunity that follows from RockOn, provided that next step. The TRAPSat RockSat-X payload  flew in December 2016, fulfilling its mission objective by recording and transmitting some data, despite a problem with the rocket that resulted in loss of the rocket with all payloads at sea. Fortunately, this learning experience is not the end of the story.
New cohorts of students continue to join the team effort, starting out with balloon payloads, traveling to RockOn, and continuing CTU's participation in RockSat-X. The latest step on the team's journey, and by no means the last, is the preparation of the CubeSat CACTUS-1, selected for NASA's Educational Launch of Nano-satellites (ELaNa) initiative. CACTUS-1, which incorporates both the TRAPSat and HERMES payloads, is currently slated for launch in 2018. Stay tuned!
Project poster: Crawl,Walk,Run_Poster v1.0.4