The JHU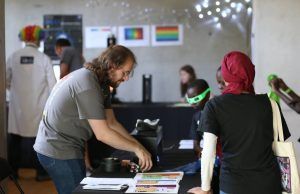 Annual Physics Fair, sponsored in part by MDSGC, was held on Saturday, April 29, 2017. This event brought hundreds of visitors, primarily families with school age children, to JHU's Physics and Astronomy Department for a day of physics and science fun, replete with hands-on demonstrations, craft activities, contests, tours, and live science shows from a Professor Extraordinaire!
MDSGC would like to congratulate our balloon lift prediction contest winners: "The Prince brothers" and Pavin. Both groups correctly estimated the lift of our 3-foot helium balloon within the margin of measurement error. Thanks to all our visitors and contestants, and we look forward to seeing you again at next year's Fair.
For those attendees who just can't get enough science fun, visit the department's Physics Fair Links Roundup, a stockpile of related material heavy on hand-selected Youtube videos of crazy physics in action.